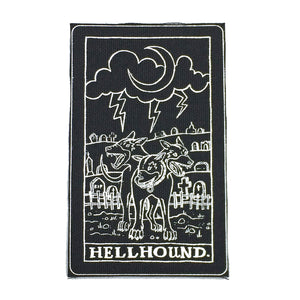 Hellhound Tarot Patch
The first batch of Tarot patches in the style of HELL HOUND! 
The Hell Hound is classically known in Greek mythology as Cerberus. A 3 headed dog, supernatural and ominous phantom, known to have glowing red eyes and guardian of burial grounds, of the guardian of HELL. When you hear it's howl this is known to be an omen and a warning. 
The rectangular area is the size of an actual tarot card with an added border with rounded corners, leaving space for sewing the patch onto it's new surface. This design was a collaboration between Hell Hound Jewelry and Illustrator
Makenzie Flynn
. Measures approximately 3" x 4.75" Hand silk screened
 on black canvas fabric. Made in Philadelphia.